CompTIA – Linux+ Certification

Test Drive our training programs
Exam Information
This instructor-led course will prepare students for the CompTIA Linux+ 2009 certification exam. It provides a comprehensive look at common tasks performed by system administrators. This includes installation, management of Linux systems from the command line and the GUI, user administration, file permissions, customization, software configuration, management of Linux-based clients, troubleshooting, and much more. Expanded coverage of networking and security are covered, which is in step with the 2009 CompTIA exam objectives
There are no prerequisites for this course. It is intended for IT professionals who are specializing in the Linux+ platform. Oracle and Novell recognize CompTIA's Linux+ certification in certain tracks.
Each online video class comes with the following features to prepare you for the exams listed below:
Instructor lectures in a video classroom environment
Printable Courseware
24×7 Learning Zone Live Mentor Support
Our Expert Instructor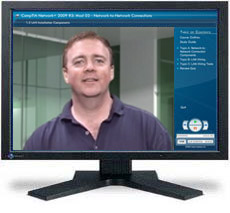 Kenneth Mayer – Certified CEH Trainer (CCSI, MCT, CCNP, CCDA)
Ken Mayer is a Microsoft Certified Trainer as well as a Certified Ethical Hacker Trainer and Security consultant. He started his career in computer technology in 1980s. He has offered a wide variety of IT training and high level consulting projects for Fortune 500 companies across the United States and Western Europe. He has achieved the Certified Cisco Systems Instructor certification. The CCSI certification involved a two-day lab and observation event held on Cisco in Paris, France Facility. This gave Ken the accreditation to be able to deliver Cisco Authorized Courses as a CCSI. He has taught the full line of Cisco CCNA, CCDA, CCNP, CCDP and CCIP course curriculums, including Cisco's security appliances such as PIX and IDS.