IT & Cyber Security Simulation Training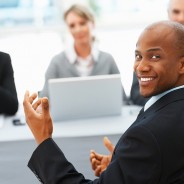 Professional Business Simulations, or serious games, are interactive workshops in which teams of employees work on challenging issues within a simulated environment. The environment can be the same or a totally different context to the 'normal' working environment. In a simulation each participant will play a role and has specific tasks, responsibilities and authority.
Participants must discuss and agree how they will work together as a team. Our Business Simulations are facilitated by trainers who provide the team with support and instructions and who also helps the team reflect on their experiences and what they have learned. The facilitator can also help reflect on how to translate the learning points into the participants own working environment.
Simulations are played in a number of rounds so that participants can see, feel and experience improvements as the simulation progresses. It is the reflection moments between rounds when people learn and make improvement choices that will have an impact in the next round.
IT Service Management Simulation
itSM's Apollo 13 simulation and Grab@Pizza simulation help translate ITIL theory into practice. The Apollo 13 game focuses on operational processes (Service Desk, Incident, Problem, Change, and Configuration Management) while Grab@Pizza focuses more on aligning IT with the business strategic, tactical and operational processes.
IT Governance Simulation
itSM's Grab@Pizza simulation can be used to demonstrate the value of using ITIL and COBIT to align business and IT decision making. This simulation can be played with both business & IT decision makers. Delegates can use COBIT as an assessment and improvement instrument between simulation rounds.
IT Cyber Security & Resilience Simulation
itSM's Oceans99 simulation can be used to create board room decision making awareness, as well as broad awareness with both IT and non-IT staff on the importance of 'behavior' and ' discipline' as well as how to translate security and risk theory into practice.
IT Project Management Simulation
itSM's Challenge of Egypt simulation can be used to help translate theory into practice in a project environment. The teams apply practices to manage the building of a pyramid, as well as deal with project risks and scope changes. This simulation can also be played to support and enable 'agile' project management ways of thinking and working.